Types of carving knives
Overview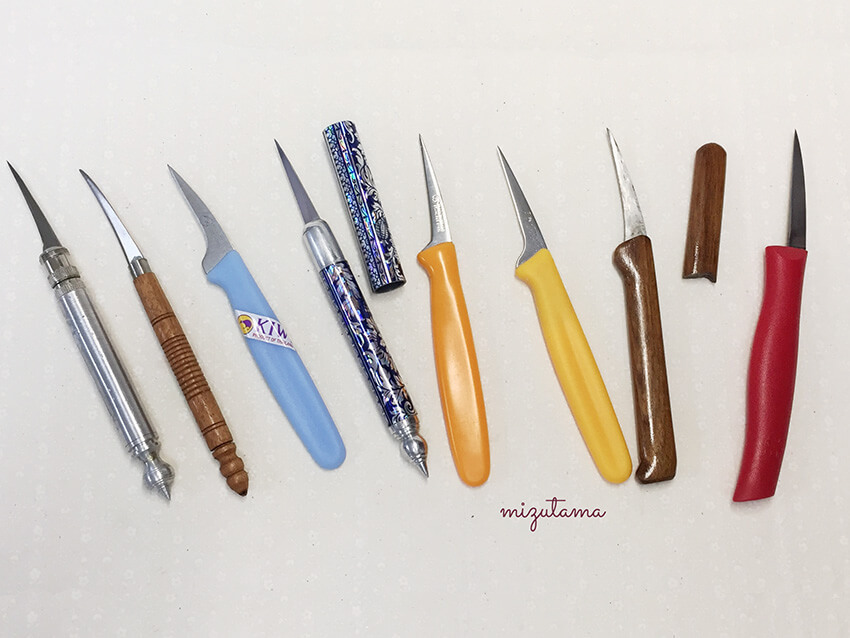 Knife info
Classic Thai carving knife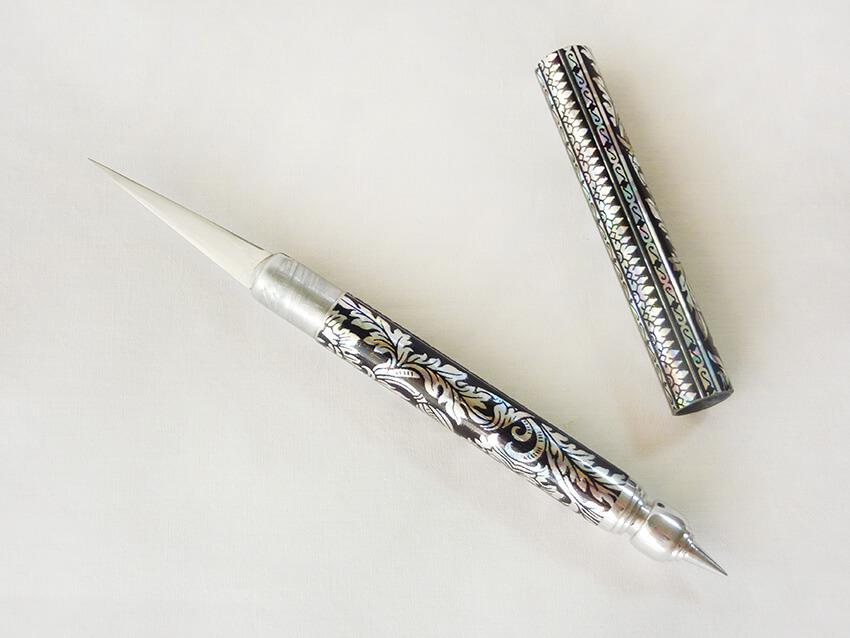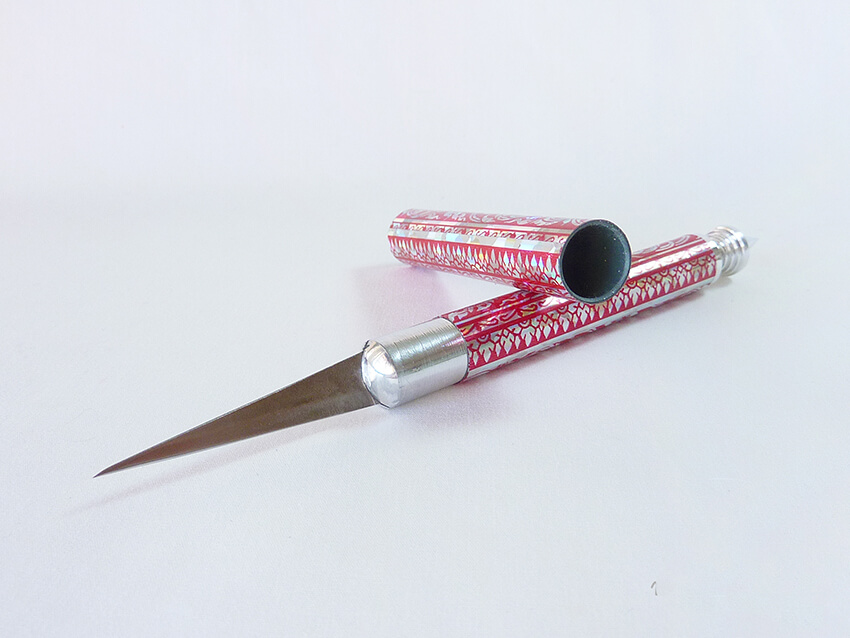 Carving knife in classic Thai design with a long V shaped blade. It is most commonly used by advanced or professional carvers. The blade is a long symmetrical shape, but one side can be used. There are many types of thickness, length, materials of the classic carving knives.
Generally, blades of cheap classic knives are thick and too long. Moreover, Thai design stickers are often not applied correctly.
On the other hand, professional classic carving knives are not cheap and have extremely thin blades.
Even if you are a beginner, you need a very thin blade carving knive for soap carving since bar soaps are breakable.
Beginners can use the classic knives but be careful not to cut yourself since the tip of the knife is very pointed.
Recently stainless steel is a common material for blades of all carving knives. High quality stainless steel blades are very thin and sharp.
A carbon steel blade is the best for a carving knife. Carbon steel is easy to form, so the high quality carbon steel blades are extremely thin and flexible. However, nowadays carving knives with a carbon steel blade are expensive and it is difficult to find them in stores.
You can make delicate and exquisite carvings if you choose a high quality classic carving knife.
Tip: Classic carving knives are often decorated with shiny Thai pattern stickers. They can be decorated with rhinestones when the stickers come off.
Pros:
Good for every carving and material, including delicate patterns, as long as the blade is high quality
Easy precision carving
Cons:
High quality blades are expensive
It is very sharp
Knives made of cheap materials are worse for very precise carving
Kom Kom carving knife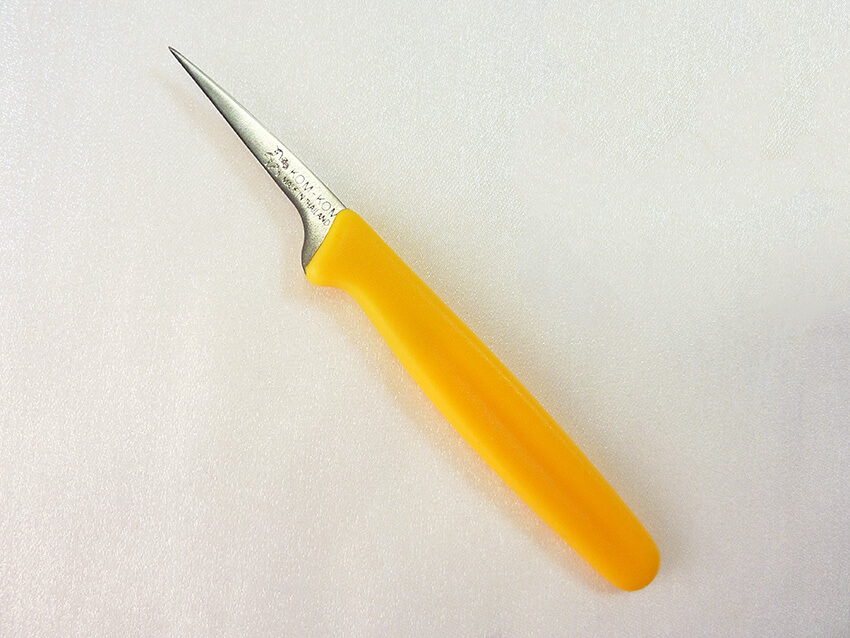 A carving knife manufactured by Kom Kom in Thailand. This knife is affordable and easy to use, so it is popular with beginners. It has a plastic handle and a sharp stainless steel blade like a beak of the bird.
There are many similar carving knives, but the Kom Kom knife is the best out of them all.
Similar carving knives are cheaper than the Kom Kom knife, but the blade of them are too thick to carve bar soaps.
However this knife is not suitable for very delicate design because the blade is not as thin as the classic carving knife.
Kom Kom carving knife is also useful for home cooking such as cutting vegetables into decorative shapes, even if you don't carve soap.
Pros:
Relatively low price
Good for basic soap carvings and vegetable carving
Cons:
Not suitable for delicate designs
Light carving knife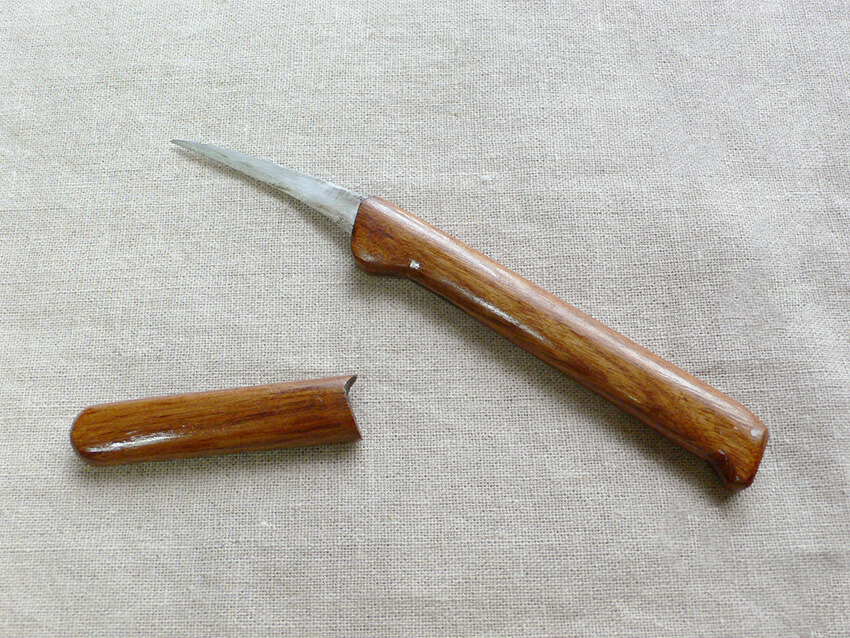 A carving knife that is often used by beginners at famous carving schools in Thailand. This knife has a wood handle and a sheath. It is lightweight tool.
However, it's not recommended to carve soaps, because the cutting edge of the blade is curved. Recommended for carving fruits or vegetables.
Pros:
Good for carving fruits and vegetables
Cons:
Not suitable for soap carving
Blade lengths

There are different lengths of the blades:
4-4.5 cm (1.6-1.8") (short)
4.5-5 cm (1.8-2") (medium)
> 5 cm (2") (long)
I recommend a 4 to 5 cm blade knife for soap carving, since a bar soap is smaller than a fruit or a vegetable such as a watermelon or a pumpkin. Consider your hand size to choose a suitable knife.